Our print and digital advertising solutions can put your brand's marketing message in front of the largest and most engaged audience of Birmingham consumers.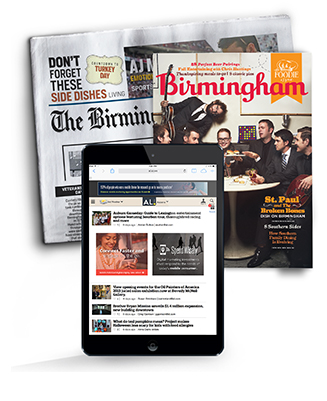 » We reach over 370,000 adults in each month between The Birmingham News and Birmingham Magazine.1
» AL.com reaches over 2 million unique visitors in the Birmingham metro area each month.3
Additionally, Alabama Media Group's digital advertising solutions are greatly effective at reaching residents in the Birmingham metropolitan area, who consume a high level of information on a variety of online platforms.
» 85% of Birmingham adults have Internet access.1
» Over 950,000 Birmingham adults use social media.1
Find out more about Birmingham audience solutions and advertising opportunities.
1.    Birmingham Scarborough, Release 1, 2015,
2.    Industry: Metropolitan Birmingham Employment by Industry Sector", birminghambusinessalliance.com, n.d. Web. 30 Aug. 2012,
3.    Omniture, Birmingham metro, March 2015