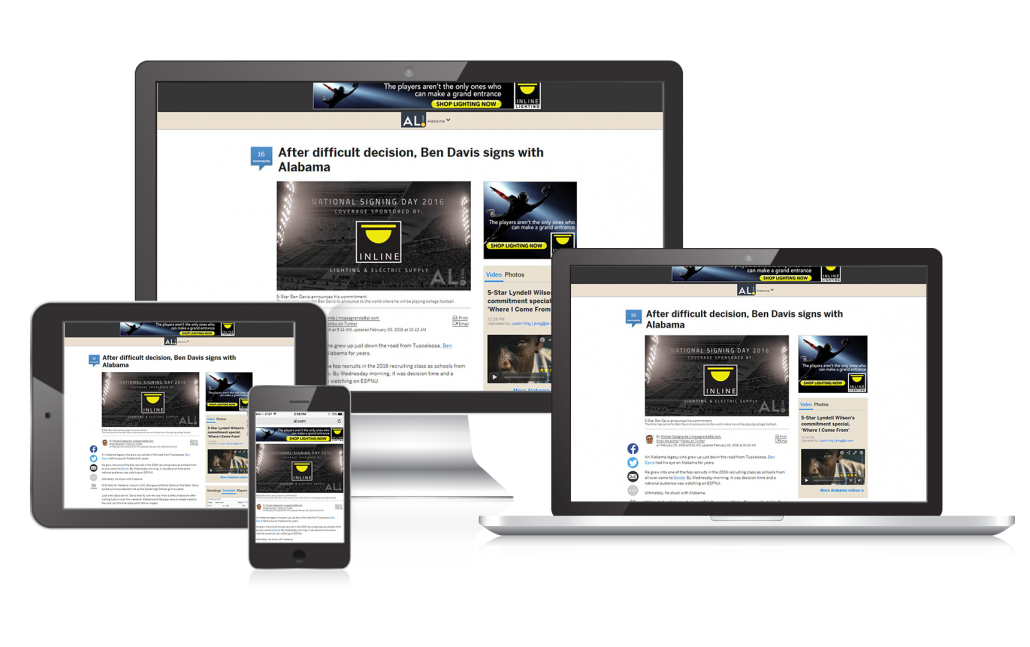 Exclusive Sponsorship of Signing Day 2016
Alabama Media Group chose a football-related campaign for Inline Lighting and Electric Supply based on the results of their digital display and print campaign for the 2015 College Football Preview, targeting AL.com's Sports Audience. The sports audience provided the awareness needed to both B2B and B2C.
Through tracking the results of the 2015 College Football Preview and ongoing communications with Inline Lighting and Electric Supply, Alabama Media Group knew that Signing Day was the right audience and the right opportunity.
For Signing Day 2016, AL.com provided live-stream coverage, highlighting each University of Alabama and Auburn University signee along with live analysis of the latest news and rankings as well as exclusive videos featuring top recruits. The videos were also shared on Facebook, YouTube, and throughout AL.com.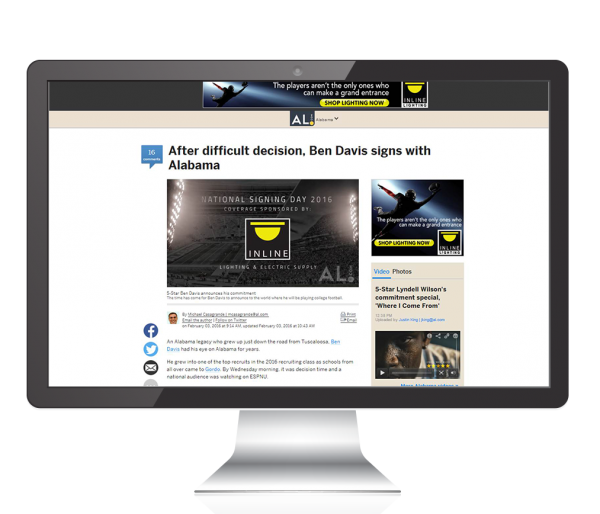 Signing Day has grown in coverage and popularity throughout the country, especially in Alabama. AL.com leads the state in providing in-depth, football news year-around.
As the exclusive Signing Day 2016 sponsor, Inline Lighting and Electric Supply Company received a multi-layered awareness campaign including:
5-second Title Slide before every Signing Day video

24-hour Roadblock on AL.com Sports homepage with Responsive Rich Media

Digital Display Impressions

Watermark logo in over 9 hours of video live-stream
Alabama Media Group's Signing Day Sponsor package included the 3 main components necessary for a successful branding campaign: frequency, consistency, and simplicity. This ensured the target audience will see a message enough to notice, that it's steady enough to recognize, and simple enough to remember – each component working together to achieve Inline Lighting and Electric Supply's goal of statewide awareness.
The 5-second title slide informed viewers that coverage was courtesy of Inline Lighting and Electric Supply. Before and after individuals watched Signing Day coverage, they could see the interactive, expanding ads on the AL.com Sports Homepage.
The option to interact with the ads allows consumers who want to immediately learn more about a brand and their products to immediately engage inside the ad unit. Finally, the static digital display impressions would ensure that visitors – whether they engaged with the video and responsive ads, or not – would see and recognize Inline Lighting and Electric Supply Company.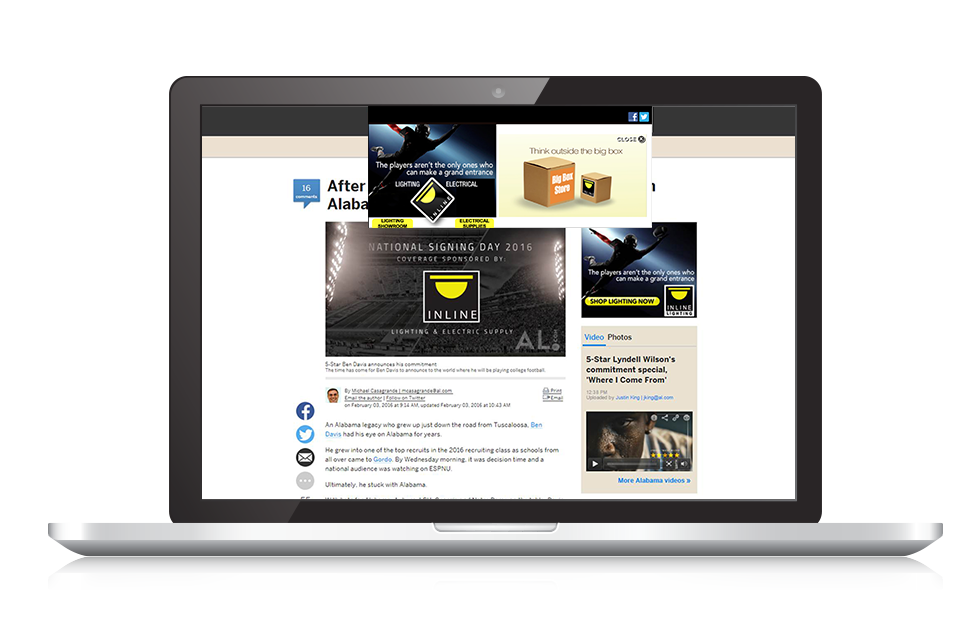 Building partners for life
"We have seen such a positive response from the Signing Day Sponsorship! I have gotten calls and emails from all over the state."
Lauren Collins | Marketing Director, Inline Lighting & Electric Supply
Account Manager Testimonial
"Building off the excitement of Alabama's National Championship, the Auburn – Alabama rivalry, and knowing AL.com's sports audience, we knew this was a perfect opportunity for Inline Lighting and Electric Supply to make a huge, statewide impact."
 Nastacia Bove  |  Account Manager
Discover how our digital expertise can help propel your business forward.