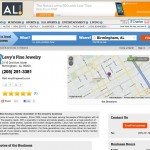 Make sure your business is found online with Alabama Media Group's FREE comprehensive business listings with search functionality on AL.com and gulflive.com. Business listings allow consumers to easily search by category, location and keyword, and quickly find out more about the products and services you offer.  An enhanced business listing can improve your business' visibility in search engine results and includes data distribution to get your accurate and up-to-date information to hundreds of other online directories.
Additionally, we offer online reputation monitoring that allows you to easily track online comments and reviews about your business across the web – including Twitter, Citysearch, and Yelp – all in one place.
Claim your business listing for free and contact us to learn more about features that will help boost your online presence.