Tradition meets now
.
200+ years of print advertising, plus digital lift.
Newspaper Advertising Solutions
Newspaper advertising supports digital marketing efforts by increasing brand awareness and is often credited with driving traffic either to stores or to a website.
Alabama Media Group owns the largest three newspapers in the state that deliver an engaged, loyal, and affluent audience. Reach the 795,000+1 Birmingham News, Huntsville Times and Mobile Press-Register readers with an array of print solutions.
Explore our audience statistics in: Birmingham, Huntsville and Mobile.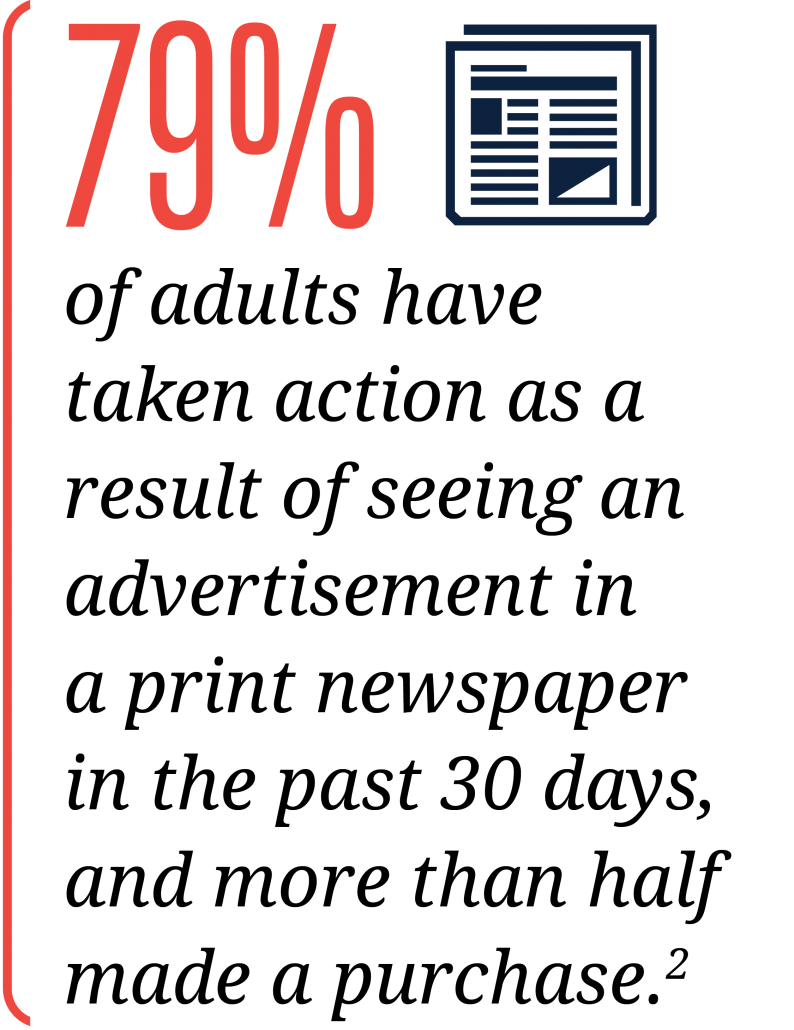 69% of adults cite newspapers as key coupon sources, making newspapers the leading medium for coupons.2

Newspaper Advertising:
Reach hundreds of thousands of engaged readers in Alabama's newspapers, The Birmingham News, The Huntsville Times and The Press-Register with a variety of targeting options.
Total Market Coverage:
Geo-target your advertising message by zip code areas to reach customers around your store locations or blanket the entire market using our Total Market Coverage program. TMC is delivered midweek each week to non-subscriber households.
Pre-printed Inserts:
8 in 10 adults (81%) said they have used pre-prints in the past month3 and 78% of moms prefer printed coupons.2 Pre-printed inserts reach the entire market or can target key ZIP codes.
College Football:
In Alabama, football is king. Reach your fan base all season in the College Football section, delivering unparalleled coverage of football news every Sunday.
Direct Mail Services:
Our direct mail services are completely turnkey. We will design, print and mail your direct marketing message to the best demographic, behavioral and geographic target audience.
Sunday Select – Yes!
Yes! delivers your pre-printed advertising to a targeted household audience in the prime ZIP codes most valued by advertisers.