Work Smarter
.
Use our data to target your audience to maximize ROI with digital display ads.
Online Display Advertising
We offer online display advertising on AL.com and across 97% of all websites in the U.S. We serve all IAB standard digital ad units plus high impact, interactive rich media and video ads across desktop and mobile devices. View ad specifications here.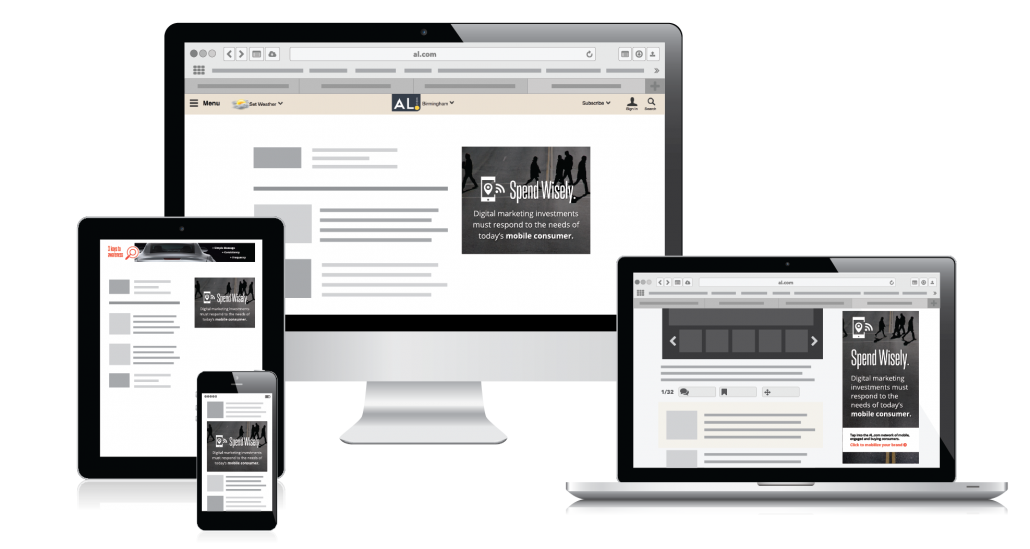 AL.com reaches more people in Alabama than any other news site, attracting 7.8+ million unique visitors each month. Our propriety data management platform allows us to target your best customer across any Alabama DMA like Birmingham, Huntsville, Montgomery, Mobile or Tuscaloosa.
How we do it
We collect data from all AL.com visitors, tracking and analyzing online behaviors to granular level.
Next, we filter and categorize visitors who meet your needs, creating a custom target audience.
We have an in-house creative team who specializes in designing digital ads to appeal to your best customers from standard to high-impact IAB units.
We provide transparent reporting and personal customer service to make sure you're seeing a return on investment.
Explore our other advertising solutions.
Registration on or use of this site constitutes acceptance of Advance Digital's
User Agreement
 and 
Privacy Policy
 (Revised Nov. 1, 2011)
Advertising Terms & Conditions.
The material on this site may not be reproduced, distributed, transmitted, cached or otherwise used, except with the prior written permission of Alabama Media Group. © 2015 Alabama Media Group. All rights reserved